When you try something new and challenging, everyone has the time of "inexperienced" or "novice". Experience and training are necessary until you become good at that. Dentists are no exception. This case is a sinus lift surgery I carried out in 2003. Since learning the skills in Michigan University in 2002, the number of sinus lift surgery I performed was not so high in those days. CT scanning information was an analog film which is quite different from the present digital ones. In the past, almost all private office dentists asked to dental college hospitals to take analog CT scan, but now digital ones have prevailed in Japan and they can take by themselves. Anyway, when you got an analog film, you had to make a 3D image in your brain by lots of sliced images. In this case, a septa, a sharp-edged thin wall bone, was in the sinus. To succeed sinus lift surgery, touching the edge of the septa had to be avoided, for not to make perforation on membrane inside the sinus. I wanted to know how the septa was running inside the sinus. I could have asked a European company who makes 3D models, if I sent the 2D film there, but the fee was tremendously high. So, I decided to make it by myself. At first, I put a tracing paper on a light box and traced each slice line. The interval between CT slices was 1mm, so, I pushed soft resin materials on the tracings and made them to 1mm thick. Then, I flushed special light on them to make them hard plastic plates. I cut the plates along the copied lines and stick them by orders, and finished to make the 3D model. It is time consuming process, but probably I can forget time when doing what I like. With the model, I could check how the septa ran in the sinus practically and make surgery tactics. 18 years later, prognosis is so far so good.
The 1st molar was loosening and extracted. The patient hoped implants, but sinus lift was necessary.
Analog film of CT. Sharp edged septa (arrow) is problematic when sinus lifting.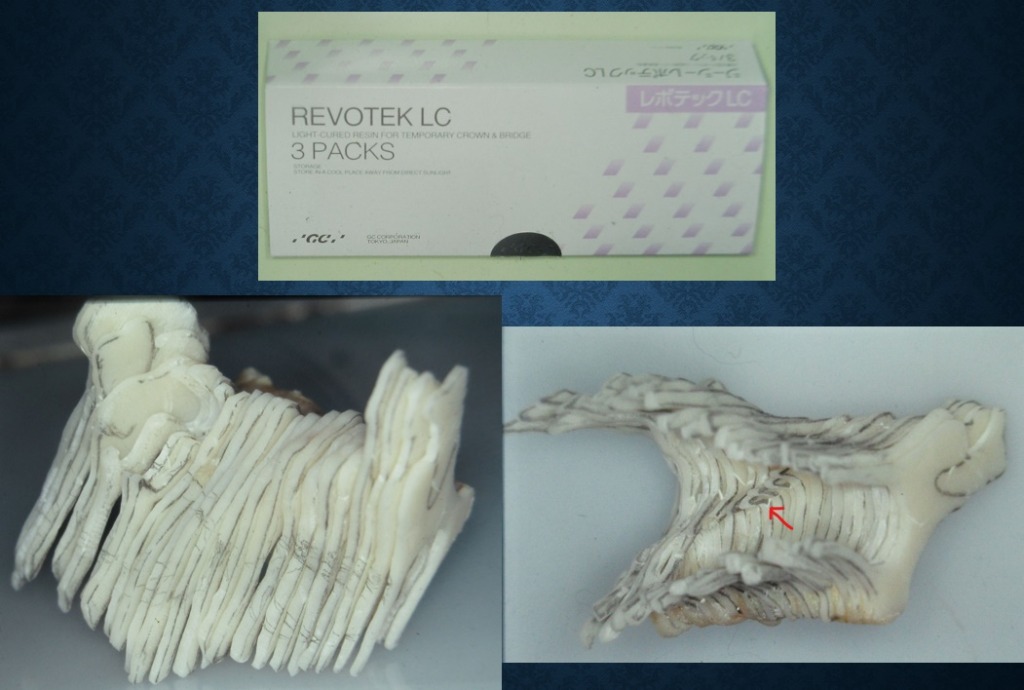 Outside (left) and inside (right) of the 3D model using resin material (above). Red arrow indicates running of the septa.
Based on the analysis of the 3D model, I made a plan of 2 walls off technique (red circles on the tracing paper). I made a surgical guide (left).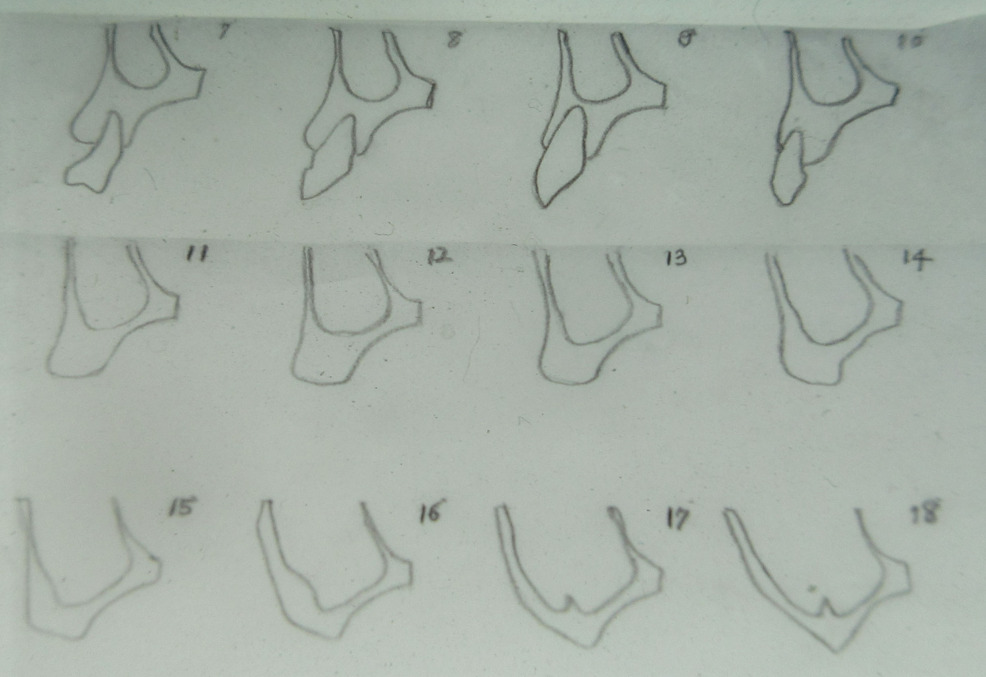 Tracing the lines of the analog film (front parts of the surgical area)
Tracing the lines of the analog film (backward of the surgical area)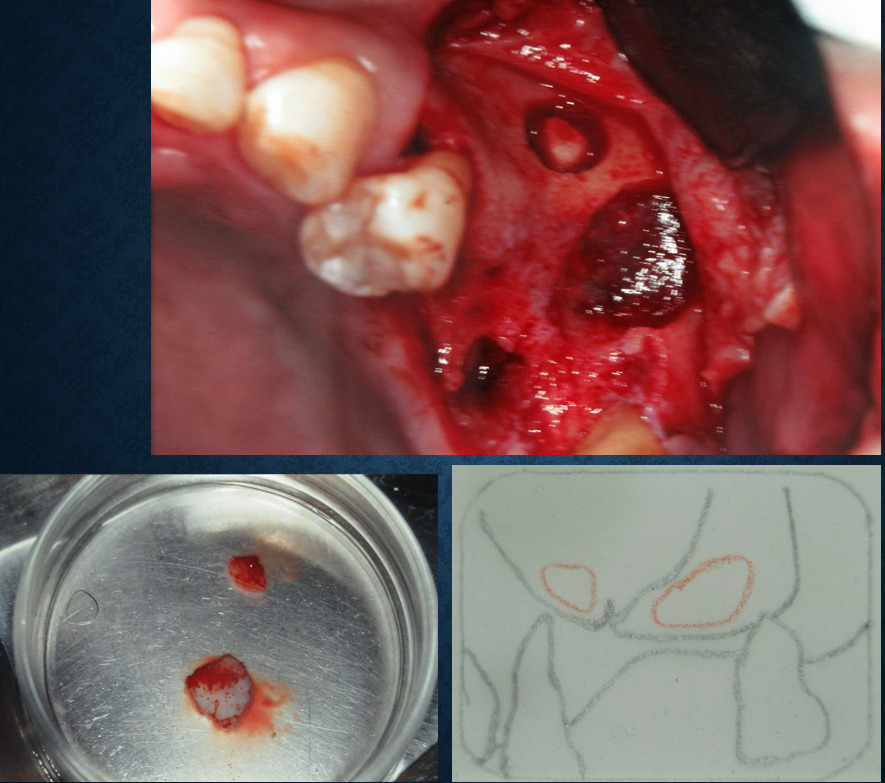 2 walls off. The membrane under the bone was very thin which means challenging for lift without breaking it.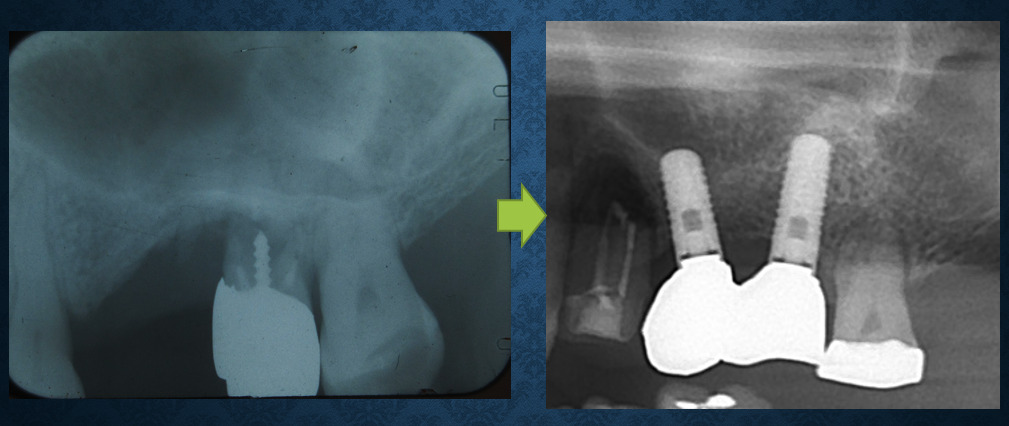 Before (right) and 18 years after (left) of X-ray. Implants are stable so far.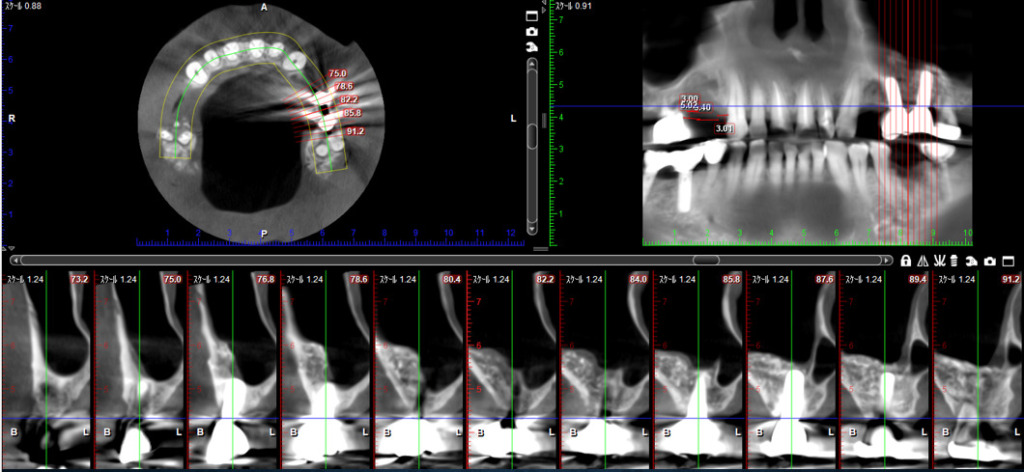 CT after 18 years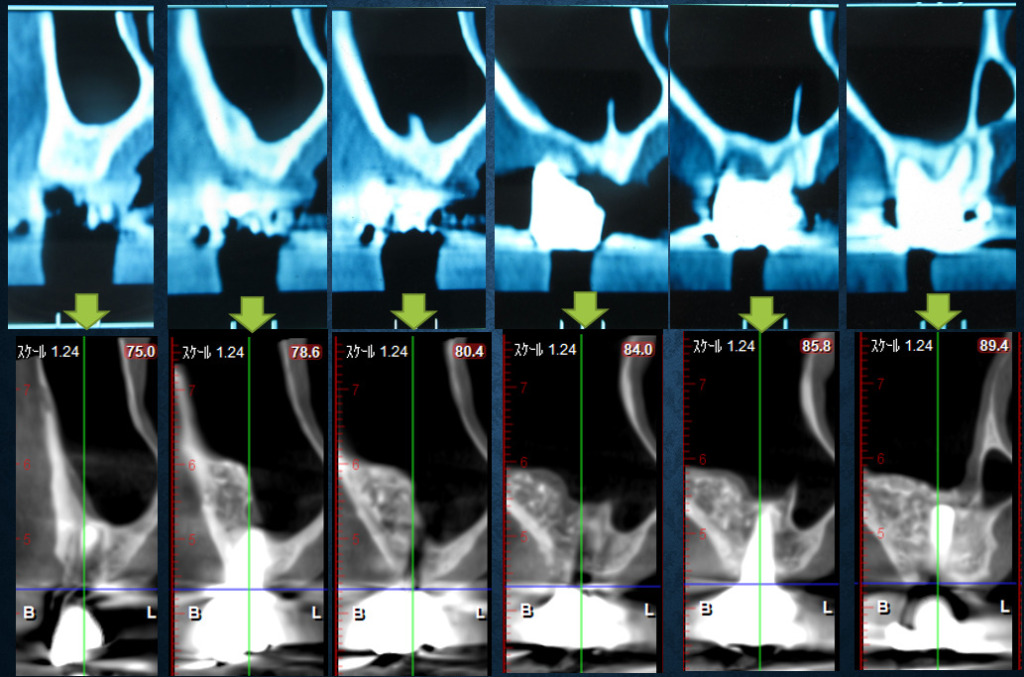 Comparison of before (above) and 18 years after (below) of CT